Short Summary
Challenges Faced: Setting up a successful online business is never easy. But, it is incredibly challenging when multichannel selling is thrown into the mix. These three Shopify sellers found themselves in hot water when they started selling on Walmart. Managing an extensive catalog, a slew of orders, and multiple platforms, overwhelmed these sellers.
Solution: The Shopify-Walmart Integration by CedCommerce automated most of the selling processes. It also facilitated a Single Platform for managing various stores, Bulk Uploading, advanced Attribute & Category Mapping, setting up Shipping Profiles, and various other functionalities.
Outcome: The Shopify Multichannel Selling Solution by Ced helped our Shopify merchants immensely. With automated features, the sellers were able to manage multiple platforms, speed up day-to-day operations, and finally- ace the multichannel game.
Multichannel Selling: Why is it relevant?
Shopify is undoubtedly one of the most valued frameworks globally. Especially for the SMB community.
Small and Medium entrepreneurs around the world think of Shopify when they think of starting a new business. However, Shopify alone isn't enough to help sellers emerge victorious in the e-commerce world.
Multichannel Selling is big right now. Through expanded reach, exploring new demographics, increased engagement points, and targeted marketing, multichannel selling significantly improves conversion rates.
According to a recent e-commerce conversion report by Statista, for Q3 of 2020, the global e-commerce website conversions raked up to 2.17%. At the same time, the e-commerce website conversion rate in the US amounted to 2.57%.
The Breakout Shopify Multichannel Selling Solution- Walmart Integration by CedCommerce
Walmart Integration by CedCommerce is a breakout multichannel selling solution. It works by seamlessly connecting your Shopify store with Walmart. The app's automation simplifies day-to-day store operations and helps you achieve an efficient selling experience.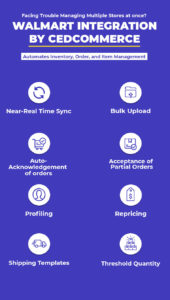 The CED app is also one of the highest-rated Walmart solutions on the Shopify App Store. A testament to its functionality.
Gabriele Frontini- The Lucky Penny Collectables
The Lucky Penny Collectables sells stamps, coins, and other collectibles, including Disney toys. They started as a small family-run business in 2010, Colorado. An operation run and operated by five family members. 'The Lucky Penny Collectable' found themselves struggling when they decided to integrate their Shopify store with Walmart.
"We are a small family-run business. When we started selling on Walmart, we struggled with uploading our inventory—syncing the Walmart seller account with our Shopify store or changing item specifications such as price and description. The CedCommerce team was very Friendly, Proactive, and Helpful. The app's automation makes everything truly manageable." Gabriele Frontini, owner- The Lucky Penny Collectables.
Gabriele approached CedCommerce looking to ease his day-to-day operations. Since managing an extensive inventory with limited resources was getting irksome, the automated features of the integration made things easier for Gabriele and his family.
The app's auto-sync feature also helped the team upload new items and update item specs such as prices, images, and descriptions hassle-free on both platforms.
Read other Success Stories:
Wally- XoticBrands
Started in the living room of Wally, XoticBrands was established in 2014. Another small business operated by a small team of five. The XoticBanrds team uploaded most of their products manually, using freelancers. When XoticBrands decided to debut on Walmart, the team was stuck agonizing over uploading their extensive catalog.
"The CED platform allows us to seamlessly publish new products, modify existing products and manage order workflow from one platform, which is truly transformational in laying efficiencies in content publishing and order fulfillment."
With the CedCommerce app's bulk uploading, importing, and editing features, Wally and his team could seamlessly import products, publish new ones, and manage their orders through a single, clever platform.
XoticBrands streamlined most of its workflow, creating an efficient strategy that significantly improved conversions and helped them turn a profit quickly.
Nolan Polk- Terrific Market
Late to the e-commerce bandwagon, Nolan Polk started Terrific Market in 2019. Terrific Market posed as a one-stop-shop for electronics, home, and lifestyle products. However, Nolan was skeptical of uploading an extensive catalog on Walmart, editing the products, and syncing the Walmart store with Shopify.
When Nolan approached CedCommerce, our experts knew how to help him start his Walmart store quickly. The biggest issues Nolan faced were time management and taking care of a giant catalog. Our Shopify Integration quickly nullified the two problems.
While the app took care of the speed and efficiency, the support team helped Nolan understand the nuances of the app and make his everyday processes simpler.
"I love the app. The support team is super friendly; every time we faced a hiccup, they were quick and eager to help. I would definitely recommend others to go for the CED app."
The CedCommerce Way
Hundreds and thousands of Shopify sellers have found a quick-fix solution with CedCommerce's Shopify Multichannel Selling Solution. Clients worldwide have placed their trust in the Integration solution, finding an easy-to-use platform that simplifies Multichannel selling—an app that combines seamless integration with effortless automation.
The app's salient features have helped clients carve a niche in the e-commerce world and expand their businesses beyond anything they could've imagined.
Are you looking for an integration solution that fits your needs? Connect with our experts today and find the right plan for your business.
The post These breakout Shopify-Walmart sellers are raving about CedCommerce: Here's why! appeared first on CedCommerce Blog.