Quick Brief: 2020 has been a crucial year in changing online shopping and paving the path for the future of and e-commerce. However bad the year has been for our mental and physical wellbeing, it wouldn't be wrong to say that 2020 has revolutionized the world of e-commerce. Walmart especially brought about significant changes pertaining to the shift in customer behavior, evolving expectations, and seller/customer satisfaction. In this blog, we'll take a deep dive into the world of e-commerce from Walmart's perspective and analyze how exactly did the Walmart Marketplace change in 2020.
Online Commerce in 2020: "It was the best of times, it was the worst of times."
It would be an understatement to say that 2020 has been an extraordinary year, especially for the e-commerce industry. The world of e-comm saw a boom in business that surpassed any predictions! The change was so substantial that it made the smallest of mom&pop shops set up online stores.
Also read:
As millions of homebound consumers turned to the e-commerce platform to buy household, cleanliness, personal care, and recreational products, thousands of small enterprises onboarded global marketplaces and forever changed the way we do business.
However, an increase in sales for categories such as gardens, pets, grocery, puzzles, and DIY kits wasn't the only thing that changed.
The change was more imminent and was felt more deeply in the way people did business. Consumer expectations changed in 2020. 'Grocery' was one of the biggest selling formats; customers placed ease over price, and new avenues for business mushroomed on social media.
2020- A Walmart Recap
2020 was a big year for Walmart, and not just because the US was busy stocking up toilet paper or canned beans. Here's looking at all that changed in the Walmart Marketplace universe and the e-commerce industry as a whole.
Walmart Partnerships & Revenue:
In June, Walmart teamed up with e-commerce giant Shopify Inc. with plans to add over 1,200 Shopify sellers in 2020 alone. Subsequently, Walmart invited hundreds of S&Bs to onboard the marketplace and made its application process more straightforward.
Walmart Inc.'s U.S. e-commerce sales grew 97.0% in the second quarter of the year, as more and more shoppers chose to buy online rather than go outside.
While in the third quarter of the fiscal year, Walmart recorded a staggering 79% increase in its e-commerce sales.
Compared to 2019, Walmart's grocery sales (online and offline) were up by about $3 billion in the second quarter and have reached over $8 billion so far.
Walmart expanded store pickup and delivery slots by nearly 30% since February. The company has permanently increased its ship-from store-capabilities, currently offering almost 3,500 pickup locations for online orders at its stores and same-day delivery from roughly 2,700 stores.
New Walmart Features and Updates released in 2020
Other than its record-breaking profits, Walmart also introduced several changes to its marketplace. These additions finally made life easier for marketplace sellers.
Listing Quality Dashboard
One of the more essential features introduced in 2020, the Listing Quality Dashboard, is aimed directly at product SEO and ranking. Walmart introduced this update intending to help marketplace sellers increase the visibility of their products.
The Listing Quality Dashboard analyzes the overall average quality score of products, the breakdown of the components that make up average listing quality, post-purchase quality, Pro Seller Badge status, while also provide item-level scoring for all published items.
Pro-Seller Badge
Another great feature introduced this year, the Pro-Seller Badgeis a synonym for quality at the Walmart Marketplace. This almost works like a verified blue tick on social media, making the seller look more authentic.
Walmart awards pro-seller badges to top-performing sellers, who follow strict guidelines to attain this as a mark of excellence. This, in turn, makes the buyer more confident about their purchase and increases the seller's conversion rates.
Post-Purchase Quality
Post-Purchase Quality is another metric introduced in 2020 aimed at helping sellers improve their products and services quality.
PPQ is a measure of the product's overall quality and the customer's post-purchase satisfaction from it. Post-Purchase Quality is another factor that will influence buyer confidence and help with increasing conversion rates.
Campaign Management
One of the most significant features launched in 2020, Campaign Management, has automated promotional campaigns. With this feature, Walmart aims to help sellers promote their products during seasonal and category campaigns managed by Walmart.
The idea is to allow sellers to submit, update, and manage their product/s (individual or bulk) for Walmart run campaigns that are already in the spotlight.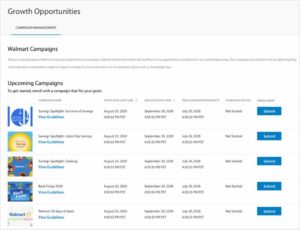 Panel Update
Walmart also changed its panel design to a more user-friendly panel, which is significantly less complicated. This makes navigating the seller center and managing day-to-day operations a cake-walk for sellers.
The new panel includes robust features such as Listing Quality, Pro Seller Badge, Shipping Templates, Message Alerts, and a lot more!
Walmart Fulfillment Service
At the beginning of 2020, Walmart launched its fulfillment service- WFS. This new fulfillment service holds the fastest delivery potential at the lowest costs feasible for marketplace sellers.
They are thus allowing sellers to offer fast and cheap delivery services while improving their seller scorecard.
Message Alert
Who can argue that seller-buyer interaction is key to customer satisfaction? However, customer messages are lost in the myriad of emails sellers receive. The new Message Alert aims to correct this. Sellers can now see buyer messages directly on the seller panel.
Thus, letting the seller directly address customers without any trouble creates a better flow of information and guarantees customer satisfaction.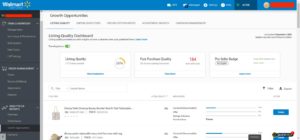 Shipping Templates
Another great feature introduced in 2020, the new shipping templates make it easier for sellers to set shipping exceptions for all the states. Where old shipping exceptions only extended to 7 US states & UTs, with the new templates, sellers can manipulate shipments to all 51 US states & UTs.
This allows sellers to set precise rules and facilitate a frictionless shipping experience for the sellers and the customers.
Ship With Walmart
Walmart introduced another shipping related update, the new Ship With Walmart program– to promote selling on Walmart Canada. The feature allows US-based sellers to onboard Walmart Canada with ease with Walmart's negotiated customs and excise duties.
With SWW, sellers can work successfully onboard Walmart Canada and sell across the border without thinking about high handling and shipping costs.
What we're saying is-
2020 has been a roller coaster ride for all of us, but for the e-commerce industry, it has been a ride which only goes up. We hope this Walmart Marketplace analysis for 2020 will help you understand the changes that happened this year, be it behavioral or technical. The new updates and features introduced by Walmart have changed the marketplace for the better and paved the path for the future of the Walmart Marketplace.
The post How Walmart Marketplace changed in 2020: Features, Updates & More appeared first on CedCommerce Blog.