CedCommerce has announced a WooCommerce integration for the Kogan marketplace, enabling merchants to expand their business in the Australian region. WooCommerce merchants across Australia will be able to sell across Kogan Marketplace, allowing them to list, sync, and manage orders centrally from the WooCommerce store itself.
Amid the pandemic, people are more inclined to online shopping. Unlike the previous years, people are locked up at home and are looking for better opportunities to make purchases. Thus, selling on marketplaces like Kogan can help you showcase your best products and bring you a lot of revenue, gain you visibility and reach. With this strategy, you can rule the market of Australia and New Zealand.
What is Kogan Marketplace?
Kogan.comheadquartered in Melbourne, is Australia's leading shopping destination, prominent for price leadership with digital efficiency. It focuses on making in-demand products and services more affordable and accessible.
Sellers can choose to sell from a wide range of product categories, including consumer electronics, hardware, appliances, homewares, toys, and many more.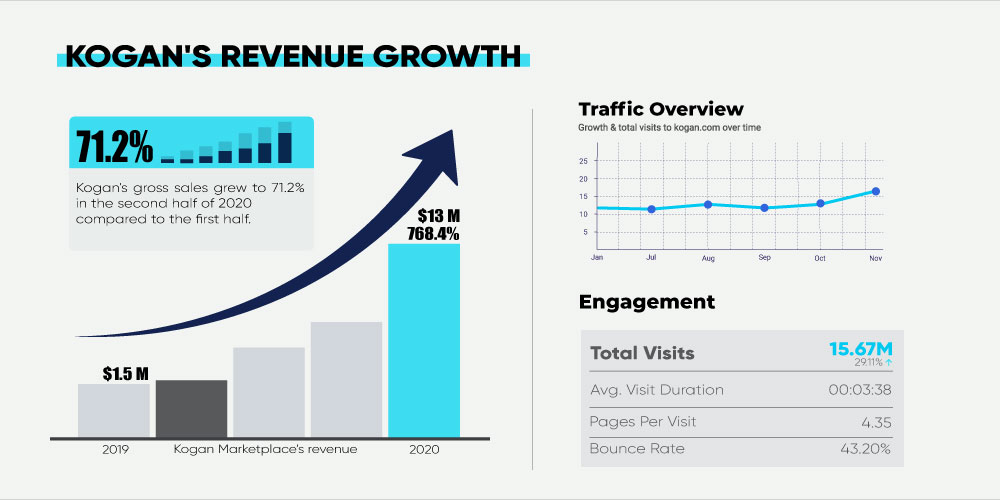 Kogan's gross sales grew to 71.2% in the second half of 2020 compared to the first half. The revenue grew from $1.5 million in 2019 to $13 million in 2020. These figures can assure you that it is best to sell on the Kogan marketplace.
One question that must be continuously arising in your head is why you should consider selling on the Kogan marketplace? Let us find out some of the reasons that will clear your head of uncertainties.
Sellers on the Kogan marketplace get exposure to millions of new customers. Most of the time, products listed on Kogan get instant attention, and their demand increases rapidly.
Sellers on Kogan enjoy the same benefits as its loyal customers, including interest-free finance options and Qantas frequent flyer points. You can boost your sales with their comprehensive marketing options, ranging from email promotions to significant events like Black Friday, Boxing Day, and Kogan Frenzy.
Uncover the benefits of selling on Kogan
Get access to over 5,00,000 products from more than 1000 brands and distributors.
Kogan.com runs marketing and promotional activities for its customers, and sellers can take part in those activities.
It is the leading shopping destination in Australiathus listing products on Kogan can be fruitful.
Kogan.com emphasizes seamless customer experiencewhich in turn is helpful for merchants as happy customers are the ones who become your regular customers.
Connect your WooCommerce store with Kogan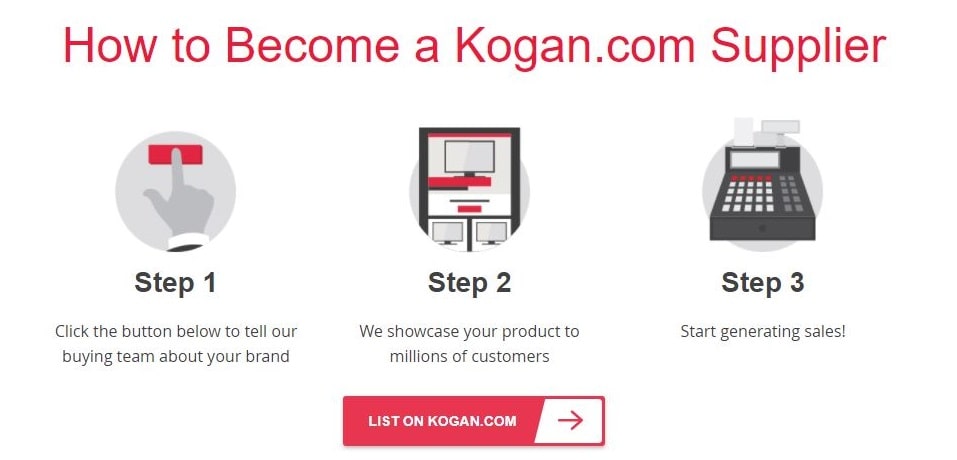 Source: Kogan.com
With WooCommerce integrations, you can experience effortless and efficient selling. Automating your stores will allow you to get your products into the limelight and increase their potential of getting sold. Let us now look at the features of Kogan Integration for WooCommerce.
Key Features of WooCommerce Kogan Integration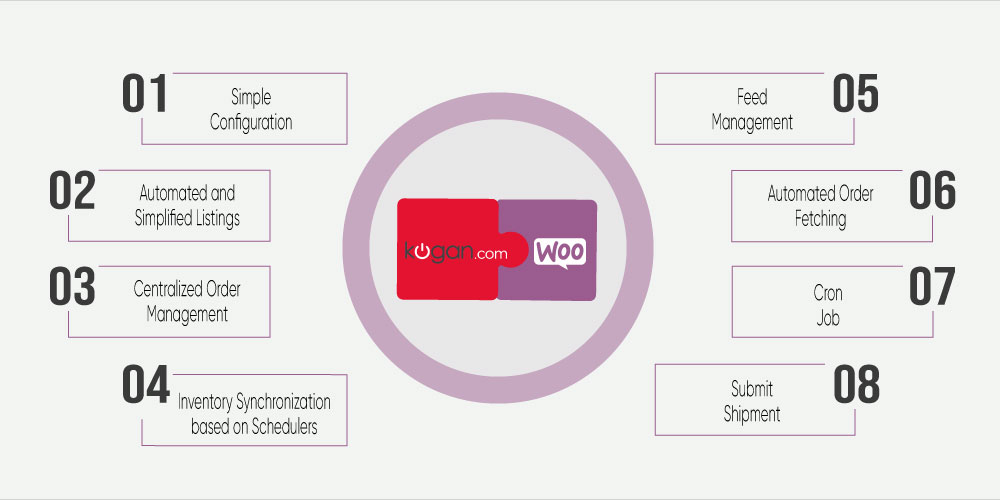 Simple configuration
The integration has a simple configuration process and offers a hassle-free selling experience.
Automated and Simplified Listings 
Allows automatic bulk-upload of products from WooCommerce to Kogan in a single click.
Centralized Order Management 
You can list, sync, manage orders, cancellations, and other updates from the WooCommerce store.
Inventory Synchronization based on Schedulers
With inventory synchronization, you can keep track of products and inventories between the WooCommerce store and the Kogan marketplace. It helps you to avoid overselling or underselling.
Feed Management
Sellers can review the status of the uploaded products on Kogan. They can view, resolve the errors, if any, and re-upload the products on the Kogan marketplace.
Automated Order Fetching 
The merchants can import the orders from the Kogan marketplace to WooCommerce stores by filtering them based on order status.
Cron Job
The cron management feature allows you to automate the synchronization process of inventory, order, and price management.
Submit Shipment
The extension allows you to maintain transparency. By providing shipment details to buyers, you can boost customers' loyalty and confidence.
Added Benefits By CedCommerce include-
Lifetime free updates with the plugin
Dedicated account manager
With such innovative features, sellers find it profitable and straightforward to sell on the Kogan marketplace. As there is no intermediate platform to interrupt the selling process, it is beneficial to get your stores automated with WooCommerce.
Conclusion
WooCommerce integration makes the selling process easier and affordable. The integration helps in the centralized operating of the selling process and is thus an all-in-one solution compatible for all your marketplaces.
CedCommerce helps people turn their dreams into reality by providing them with multi-channel marketing ideas and installing stores from scratch. Thus, it develops Marketplace integration tools, Importer apps, and services such as theme customization, store development, and much more!
Integrate your WooCommerce stores with the Kogan marketplace to expand your business in the Australian region and increase your brands' potential.
The post CedCommerce enables merchants to sell on Kogan Marketplace with WooCommerce Integration appeared first on CedCommerce Blog.